GOSIA code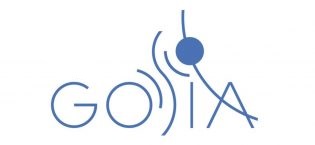 The GOSIA code is named after Tomek Czosnyka's wife – Małgorzata Rejman-Czosnyka (diminutive in Polish: Gosia).
Standard version of the GOSIA code (revised in December 2009): GOSIA
Version of the GOSIA code handling simultaneously projectile and target excitation: GOSIA2
to compile it on a Linux machine: f77 gosia_20080630.f -o gosia -fno-automatic
GOSIA webpage
GOSIA User Group webpage is maintained by Doug Cline from the University of Rochester. The website is designed to provide the potential user with the information and codes to facilitate use of the GOSIA suite of codes for Coulomb excitation studies. Gosia source codes, sample inputs and outputs, the User Manual, reports, newsletters, as well as links to resources of potential use to the members of the Gosia Users Group are provided. In addition a Gosia Forum has been implemented to facilitate discussion between individual members as well as between the Steering Committee and Users Group members.
GOSIA User's Manual
GOSIA & GOSIA2 User's Manual (version from 10th of May, 2012)
GOSIA User's Manual (original version)
GOSIA mailing list
We maintain a mailing list. All GOSIA users are welcome to subscribe. Please follow the instructions.
GOSIA Workshops
The first GOSIA Workshop took place at HIL Warsaw, 8-10 April 2008. During the first day of the workshop presentations were concentrated on recent achievements in Coulex analysis. On the second day a GOSIA hands-on training was organised, while the last day provided an opportunity to discuss future plans and possible developments of the Coulex analysis software.
GOSIA Workshop 2008 website
The second GOSIA Workshop took place at HIL Warsaw, 9-11 April, 2013.
GOSIA Workshop 2013
The recent meeting of the series was in Warsaw, 9-11 April, 2018.
3rd GOSIA Workshop 2018
GOSIA for beginners
Presentations by Kasia Wrzosek-Lipska and Magda Zielińska at TU Darmstadt, 17-20 May 2011.